Cheshire College – South & West held an evening of celebrations for its Ellesmere Port and Chester students at the annual Student Awards.
Hosted within the impressive rotunda at the Ellesmere Port Campus, the evening's nominees could enjoy drinks, canapés and musical entertainment prior to the ceremony, alongside their lecturers, family and friends.
Ellesmere Port Campus was delighted to welcome BBC reporter, newsreader and producer Kevin Fitzpatrick as the evening's Compère to highlight the student's achievements.
Aimee Clynch, who is studying Art & Design Practice and taking Photography evening classes with the College at Chester Campus, said that being nominated for the Arts & Media Student of the Year Award was: "A complete surprise, I didn't expect it at all, but it's amazing."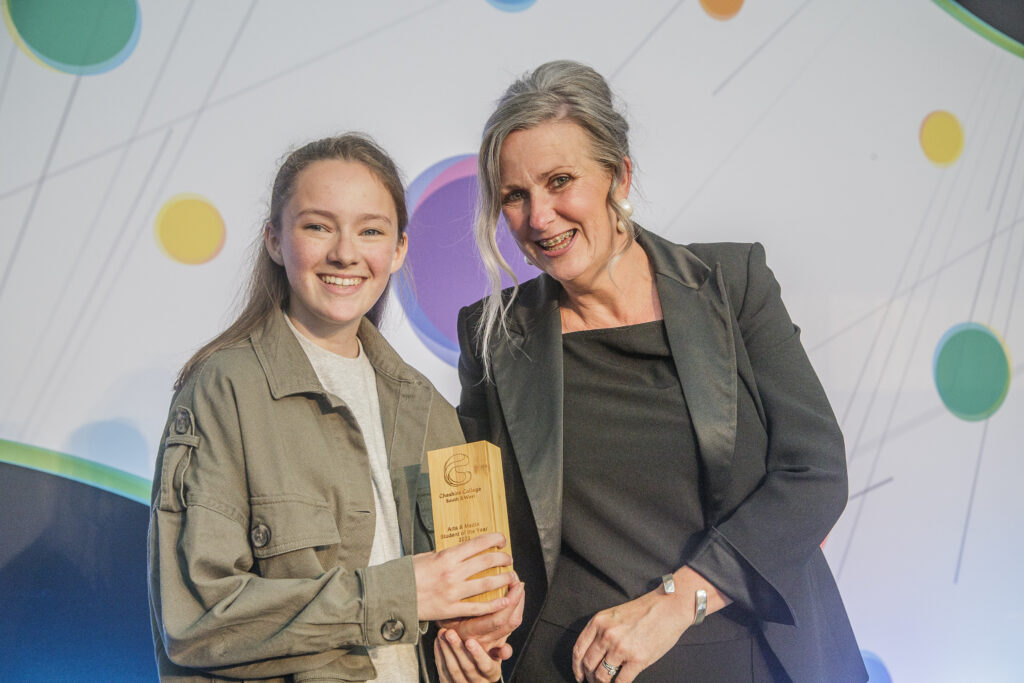 Aimee will be studying Photography at Staffordshire University and said that her ambition is to pursue photography professionally: "I want to make a name for myself and go as far as I can. The College has gone above and beyond to support me with this, especially Sam and Craig."
This year's ceremony also saw the inclusion of the T Level Student of the Year category, as the first cohort of the College's T Level students are completing their studies. The award was sponsored by Keele University, with Scott Walker presenting the prize. Helene Ngindu-Spoor took home the T Level Student of the Year award, after proving herself a reliable and resilient student during her T Level in Education and Childcare.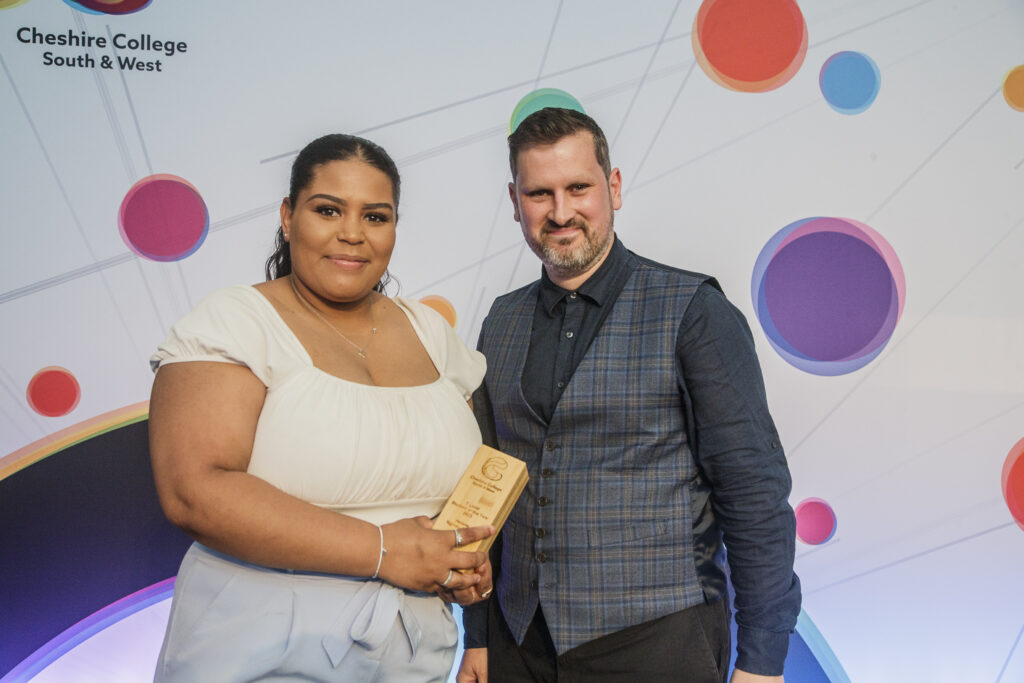 Helene will be progressing to study Primary Teaching 7-11 at Edge Hill University and said that the support from her lecturers has been invaluable: "I've been here for three years, and the College and my lecturers have been great. April was amazing from the start, and then Jo came in and they've all been incredible."
Fellow T Level Early Years Education Students Ruby Beaumont and Sophie Crimes will be joining Helene at Edge Hill University to do Childhood Studies. Ruby and Sophie were co-winners of the Ambassador of the Year award and said that their nomination was: "Unexpected, but such a nice surprise. We're really happy to be here tonight and Apri, Jo and Richard have been incredible during our studies."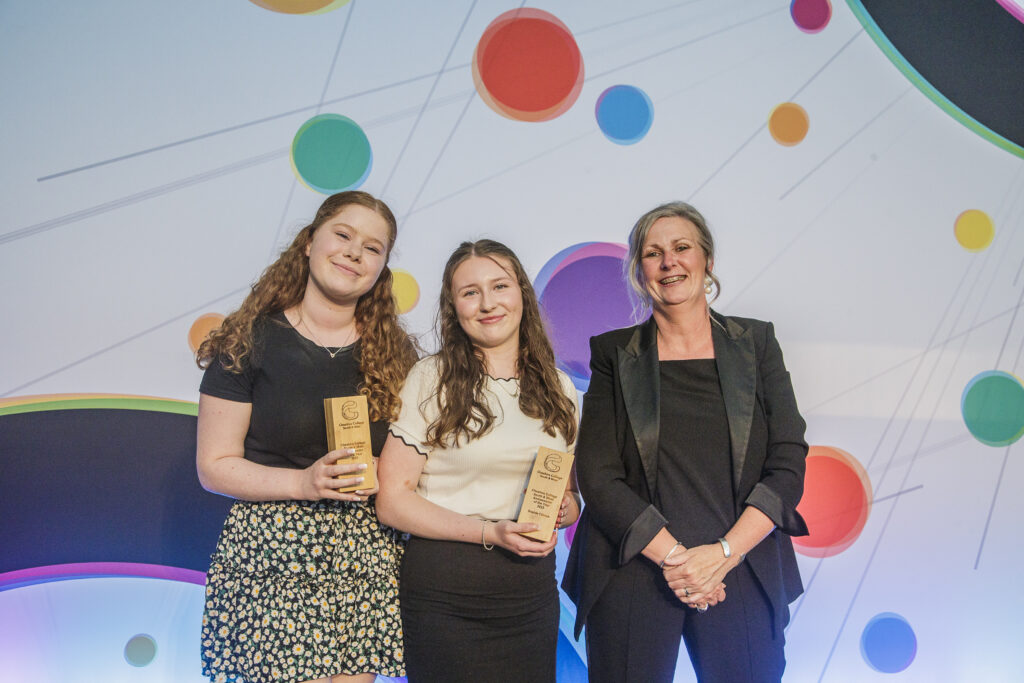 The College presented awards for a wide range of subjects and qualification types, shining a light on Student of the Year in categories such as Learning for Life and Work, Higher Education, ESOL, Construction, Arts and Media, and Hair, Beauty and Barbering.
Jasbir Dhesi OBE, Principal and CEO of Cheshire College said that the evening was a fitting conclusion to the College's Awards Season, which began on Thursday 8th June at Crewe Campus: "Over the past week we have celebrated some truly outstanding students who are a credit to their families, their Campus of study and Cheshire College as a whole."
"Every year our students raise the bar, pushing themselves to be the best they can be, and achieving great things along the way."
Cheshire College are now accepting applications for September 2023 for those interested in studying a diverse range of subjects, designed to provide students with combined skills and knowledge that will fully prepare them for the next exciting stage of their life.
Visit www.ccsw.ac.uk to find out more.
Full List of Winners
Aimee Clynch (Arts and Media Student of the Year)
Finley Hormbrey (Construction Student of the Year)
Sam Bugden (Access to Higher Education Student of the Year)
Hannah Davies (Business and Computing Student of the Year)
Finley Hormbrey (Construction Student of the Year)
Erin Fitzsimmons (Engineering Student of the Year)
Leah Bowskill (Health and Social Care Student of the Year)
Paige Williams-MacKay (Hospitality and Catering Student of the Year)
Charlie Bellis-Pedlow (Motor Vehicle Student of the Year)
Katie Clay (Childcare and Education Student of the Year)
Gemma Conery (Science Student of the Year)
Ashleigh Brocklehurst (Travel and Tourism Student of the Year)
Rhian Barlow (Hair, Beauty and Barbering Student of the Year)
Daniel Cooper (Public Services and Sport Student of the Year)
Megan Parry (Performing and Production Arts Student of the Year)
Aleks Kozlova (Outstanding Achievement Foundation Level Award)
Nahily Getu (Outstanding Achievement Intermediate Level Award)
Olivia Mitchison (Outstanding Achievement Intermediate Level Award)
Jake Holbrook (Learning for Life and Work Student of the Year)
Kawinthida Saenseemon (English Student of the Year)
Doe Benti (Rising Star Award)
Daniel Joyce (Maths Student of the Year)
Ben Ashfield (Higher Education Student of the Year)
Joanna Bankosz (ESOL Student of the Year)
Helene Ngindu-Spoor (T Level Student of the Year)
Sophie Crimes, Ruby Beaumont and Ruby Kendrick (Cheshire College – South & West Ambassadors of the Year)
Connor Backstrom (Award for Outstanding Progress)
Skyler Davies (Well-Being Ambassador of the Year)
Emiley Scott (Award for Exceptional Enterprise and Initiative)