Apprenticeship levels range from Level 2 (equivalent to GCSE) right the way up to Level 6 and 7 (equivalent to a Bachelor's or Master's degree), and it's not uncommon for Apprentices to progress on to the next Level as they continually look to expand their knowledge in their chosen field.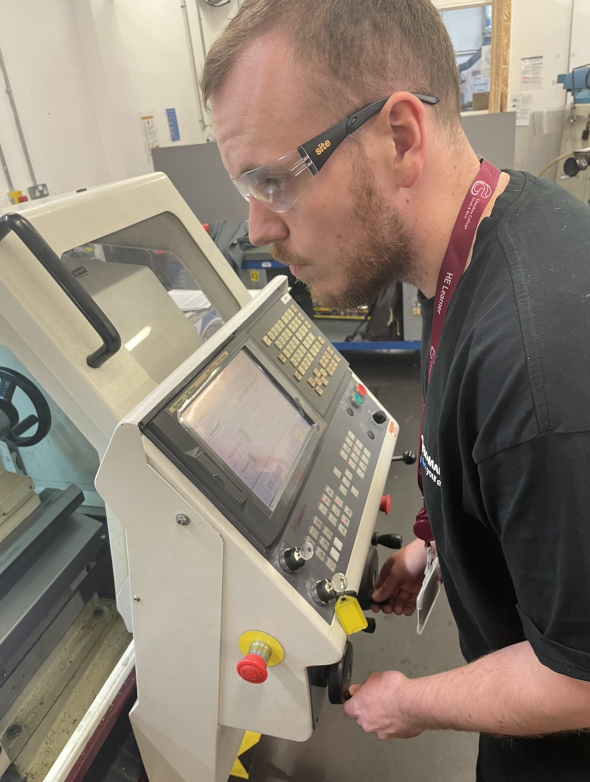 At last year's Apprenticeship Awards Stephen Whitmore, who works for a local aerospace manufacturer, won the Apprenticeship Award for Exceptional Contribution for his amazing work and positive can-do attitude. Stephen is currently studying for a HNC qualification in Electrical Engineering after completing his Engineering (Mechanical Manufacturing) Level 3 programme, a subject which he had no prior experience in.
We caught up with him to find out how he's been getting on…
Q. Hi Stephen, do you mind telling us a bit more about your current Apprenticeship?    
A. I'm currently a third year Electrical Maintenance Engineer Apprentice working for a local aerospace manufacturer. I'm studying for my HNC in Electrical Engineering, and I hope to move on to complete my HND next year. My time at work is spent working alongside other maintenance engineers who help to further my practical skills and apply the knowledge I have gained from completing my BTEC and HNC to real life situations. 
Q. What made you pursue this Apprenticeship in particular?    
A. I worked full-time for several years in a local petrol station and was becoming dissatisfied with the job, so I decided to look for a new challenge. My girlfriend had begun a degree in Forensic Psychology, and I witnessed how much she enjoyed it, so I thought: 'why can't that be me'?   
Q. What new skills and knowledge have you learnt during your Apprenticeship?      
A. Transitioning from a customer service background and into engineering has provided me with an entirely new skill set and a different way of thinking and tackling challenges. I feel great pride knowing that I help to fix million-pound pieces of equipment which are used for precision engineering. 
Q. How does Cheshire College – South & West support your journey?      
A. My teachers have been excellent and very supportive over the past few years, especially during difficult periods due to Covid lockdowns and restrictions, as well as during challenging moments in my personal life.  
Q. How did it feel winning an Apprenticeship Award last year?    
A. It was a great feeling and made me believe that I was moving in the right direction, not only in my career path but also my personal life. 
Q. Why should other learners consider an Apprenticeship?    
A. It's a great way to give yourself a second chance at a new career at any age. I felt like I was stuck in a dead-end job but starting my Apprenticeship has given me a chance to better myself with the help of staff at Cheshire College and my employer who provides me with great support. 
Q. Do you have any wise words or advice for the winners of this year's Awards?   
A. Just keep swimming… whilst you should always take a step back and give yourself credit for everything that you have accomplished so far, there is always more to achieve. With the help and support of colleagues and college staff, you can. Never be afraid to speak up if things get difficult – you're not alone and the College has a great support network.  
You can find out more about Apprenticeship opportunities at Cheshire College – South & West here.
As we continue to celebrate National Apprenticeship Week, keep an eye on our social media channels for invaluable information and advice from our Apprentices and Employers. 
Facebook | Twitter | Instagram | LinkedIn | YouTube
#NAW2022 CCSWAppAwards22