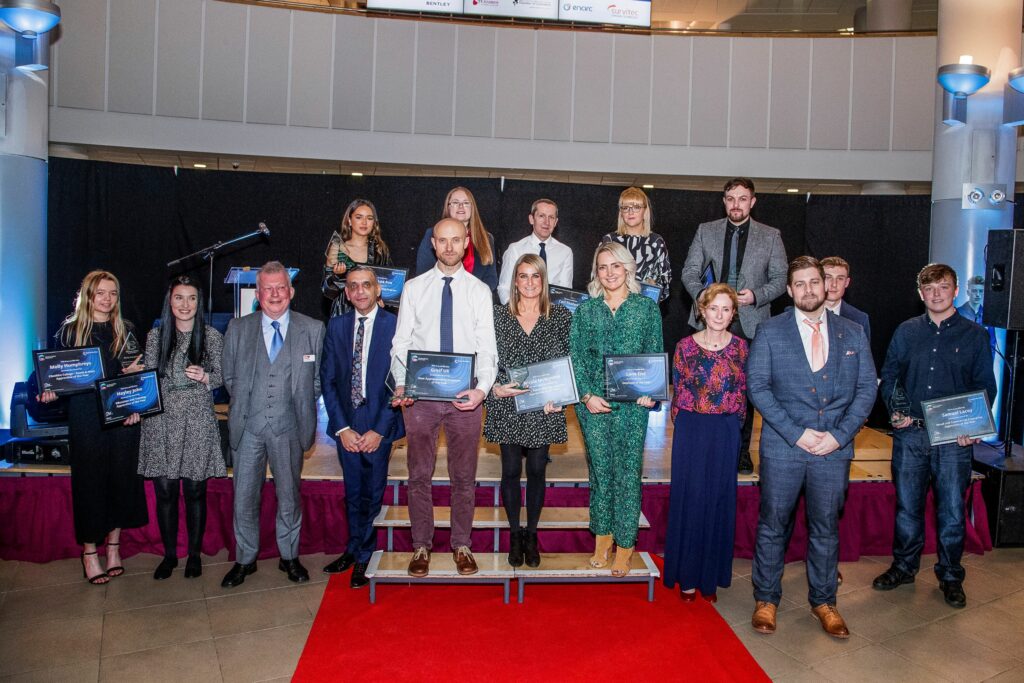 Several deserving apprentices and employers from across the region were celebrated this week at Cheshire College – South and West's annual Apprenticeship Awards Ceremony. The Award winners had exceeded expectations, made significant contributions to their workplaces, and were recognised for their outstanding performance.
More than 80 guests gathered at the College's Ellesmere Port Campus, where more than 12 awards were presented to winners.
The event was sponsored by local employers who have seen their own apprentices grow and develop within their organisations: Bentley, West Cheshire & North Wales Chamber of Commerce, South Cheshire Chamber of Commerce and Industry, Encirc and Survitec.
The Awards, which is this year marking its 16th year, took place during National Apprenticeship Week 2022. The National theme for Apprenticeship Week 2022 is 'Build the Future' which aims to promote the value of Apprenticeships and the opportunities that they provide.
Winner of Cheshire College – South and West's Apprentice of the Year, Molly Humphreys, said: "I was really surprised that I was nominated to win an award and I'm pleased to have been acknowledged by my employer.
"My favourite thing about my Apprenticeship is the people that I work with so it's so nice to be awarded for something which I enjoy. The apprenticeship has been a great stepping stone between education and work and I'm lucky to love my work."
Employer Tom Russell, from Bentley Motors, said: "To see the diverse range of apprentices recognised at the awards was a credit to them all and to the College – there are so many amazing stories that really demonstrate the value of apprenticeships to the individual, businesses, and the community.
"Bentley Motors was proud to sponsor the New Employer Award – we are always excited to see more companies getting into the apprenticeship space and adding value to their business."
Karen Roberts, Assistant Principal – Apprenticeships and Employer Engagement, commented: "It's fantastic to be able to celebrate once again our amazing learners who work incredibly hard with such determination and commitment. The Annual Apprenticeship Awards is such an important event to really reflect upon the benefits of apprenticeships and the brilliant work of our learners."
Dhesi, Principal and CEO of Cheshire College, said: "All of last night's award winners demonstrated outstanding levels of achievement and their family, friends and colleagues should be immensely proud of their accomplishments.
"Our Apprenticeship Award nominees demonstrate the varied opportunities that our high-quality apprenticeship programmes provide our learners with. The College currently has over 1,000 apprentices, works with over 500 local, national and international employers, and delivers apprenticeships across 14 sector subject areas, something that we as a College are very proud of."
Full list of the evening's winners:
Award for Exceptional Contribution
Award for Outstanding Progress
Business, Administration and Law Apprentice of the Year
Cheshire College – South & West Apprentice of the Year
Education and Training Apprentice of the Year
Engineering and Manufacturing Apprentice of the Year
Health, Public Services and Care Apprentice of the Year
Carl Thelwell (Winner)
Nicola McKimmie (Highly Commended)
Retail and Commercial Enterprise Apprentice of the Year
New Apprentice Employer of the Year
Employer of the Year
To find out more about becoming an Apprentice, visit ccsw.ac.uk, email apprenticeships@ccsw.ac.uk or call 01270 654654 / 01244 656555. If you are an employer interested in benefitting from an Apprentice, email employers@ccsw.ac.uk or call the employer hotline on 01244 656499.