With a reputation as one of the best teaching and training facilities in the country, Cheshire College offers learners the best possible career prospects during their studies. In 2020, it is well-known that Covid19 impacted the Creative Industries massively. The initial closure and subsequent unpredictability of lockdowns has created a significantly greater skills gap than had been experienced prior to the pandemic.
This change to the theatre industry's workforce has consequently caused an unusually high demand for skilled workers, creating an enormous opportunity for current and future Cheshire College learners studying on Technical Theatre courses.
The College's Technical Theatre courses, ranging from Level 3 up to Level 6, provide learners with the practical experience they need to become fully-qualified and skilled workers, ready for a market which is currently desperate for experienced staff.
The course, which runs at the College's state-of-the-art Ellesmere Port Campus, teaches learners the key vocational skills which are in demand from employers and necessary to succeed within the industry. Technical Theatre courses cover a range of industry-standard skills, such as lighting and sound management, stage management, electrics, crewing and general maintenance, and our Ellesmere Port Campus is home to a fully-equipped theatre with control desks, lighting, and staging equipment.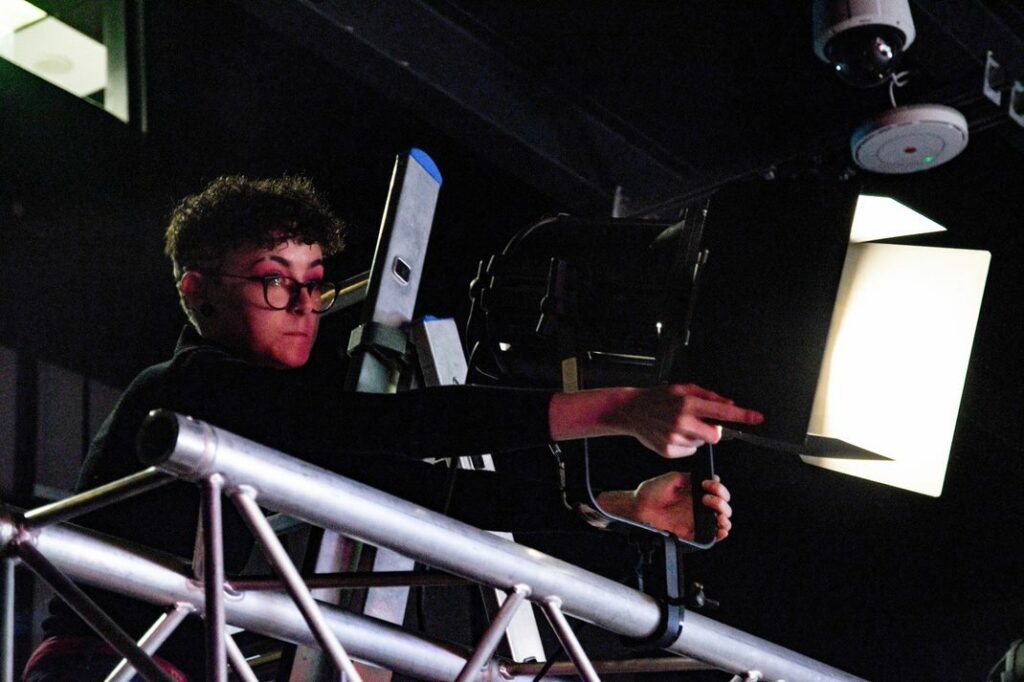 Former learners have achieved great success both during and after completing their courses, such as the three BA (Hons) Technical Theatre learners Francesca Blythin, Matthew Plested and Alex Vickers who recently received high praise in the Mobile Theatre review for innovation in their technical roles of 'Home, Again'.
Angie Berwick, Technical Theatre Tutor, commented: "As a course we have been supporting our industry partners through our network of graduates which goes back 20 years, helping them link together to fill skills gaps and employment vacancies. Learners also undertake numerous work experience placements by providing helpful support in theatres, including the Storyhouse in Chester. This is a real opportunity for learners to demonstrate their skills and understanding of industry requirements and in many cases has secured them paid employment immediately after they leave College."
The opportunities provided by the course's latest partnership with the Storyhouse theatre have already proved successful. HNC learner David Jones' impressive skill set led to the theatre providing him with an opportunity for paid employment.
There are so many exciting career opportunities available within the Visual & Performing Arts sector, as creative careers set to soar across advanced and developing economies worldwide during the next decade thanks to the provision of emerging new technologies.
There has never been a better time to study Technical Theatre. Applications are now open for courses starting in September 2022. To find out more, visit www.ccsw.ac.uk or register for the College's next Open Evening which will be taking place on Monday 24th January 2022 between 5:30pm – 7pm.  - Your Career Starts Here.