Empowering business and communities to build a greener, more efficient and connected world, last week EQUANS UK and Ireland delivered 210 hours of work experience to six Cheshire College Construction learners at their new build sites in Wharton Green and Verdin.
This real-world experience provides learners with the opportunity to learn from professionals and take part in various activities including, substructure bricklaying and slab pours, which involves insulating the brick cavities and the perimeter of the build before laying the membrane. Throughout the week, learners also gained a greater understanding of the preparation and sequence of a new build and how the materials should be applied, dependant on weather conditions.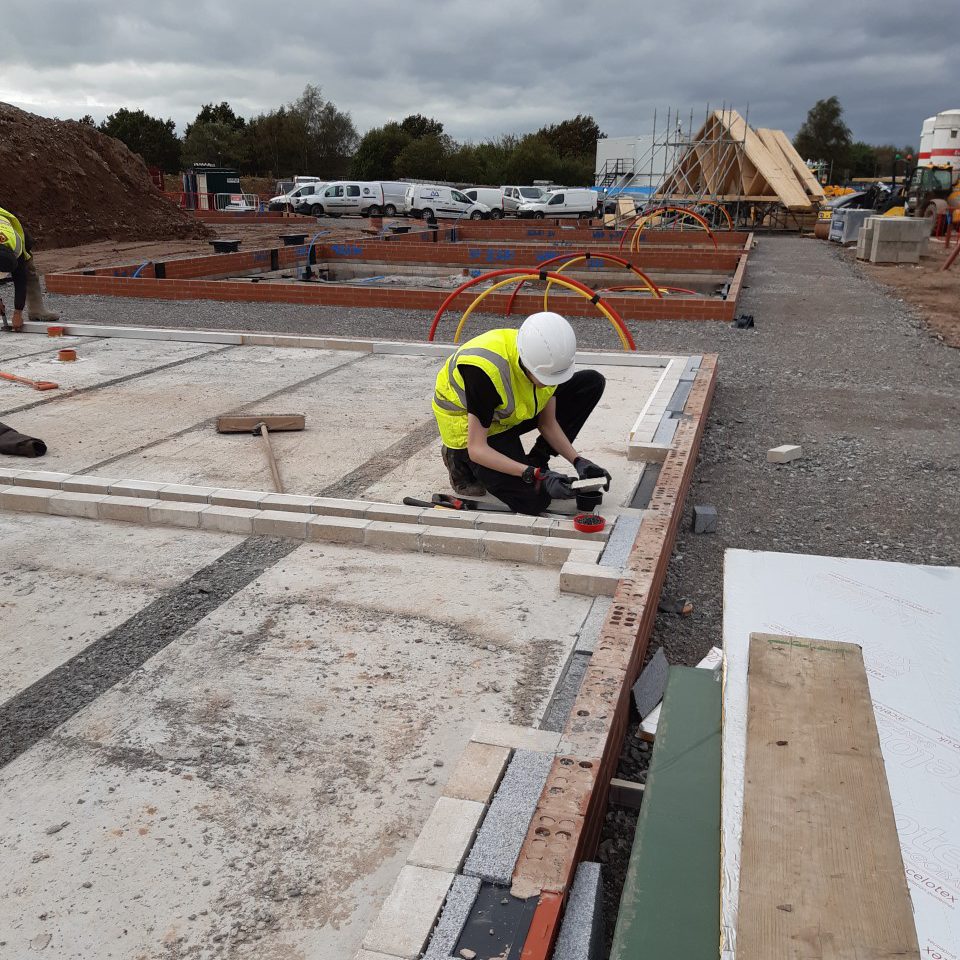 Working in partnership with the College since November 2020, EQUANS – the new branded for ENGIE's regeneration and services led activities, has the mission to connect, power & protect – empowering businesses and communities to not only fully embrace the energy transition, but also the digital & industrial transitions that are also redesigning the way we move, work and live. 
Nicola Sorton, Social Value Officer at EQUANS UK & Ireland, commented: "All learners have been great. They arrived with a positive attitude and have showed commitment, adaptability and excellent practical skills. They would all make fantastic additions to the team in the future.
"Work experience at EQUANS UK & Ireland provides learners with broader knowledge and understanding of the construction industry and showcases the range of roles available and we hope to really inspire future talent through meaningful hands-on experiences."
Connor Waterfield, aged 16, currently studying Level 1 Construction Skills at the College Crewe Campus, said: "I thoroughly enjoyed my work experience and I gained several new skills that I can use back in the classroom and in the future. The work that I carried out was mainly labouring for a bricklayer and the company made me feel really welcome. I even left at the end of the week with a new set of tools!"
Mark Parsons, Assistant Principal – Curriculum, commented: "The College views work experience as an integral part of education and we're really pleased that our learners are able to access enjoyable and high-quality opportunities with leading employers. These real-world experiences allow learners to expand their knowledge, gain advanced knowledge in their chosen careers and make those all-important industry contacts.
"We continue to develop our courses in partnership with employers to ensure we are always adapting to the skills industry need and I am delighted that so many of our partners continue to support the College."
Each year, all full-time learners must complete a minimum of 36 hours work experience, however in some instances this can be considerably more.
To learn more about studying Construction at Cheshire College – South & West register for the College's Open Evening which will be taking place on Monday 24th January. Attendees will be able to chat to subject specialists, find out more about courses and facilities, get guidance on applications, funding and travel, as well as take part in exciting activities designed to give a flavour of College life… Your Career Starts Here.