Two Technical Theatre students at Cheshire College – South & West have been given an incredible opportunity to work behind-the-scenes as Follow-spot Operators at the 67th annual Eurovision Song Contest in Liverpool.
Production Arts Practice students Megan Parry and Ben Whitaker were selected for the role earlier this year following some exclusive expert training at the College's Ellesmere Port Campus.
From within the College's purpose-built theatre, students watched demonstrations and engaged in practical sessions with the latest technology from ROBE, presented by leading Lighting Designer, Tim Routledge. During the masterclass, Ben and Megan proved their technical proficiency, passion and dedication to their craft, resulting in their selection for the highly coveted Follow-spot Operator roles.
Level 3 student Megan, aged 18, said her selection was completely unexpected: "I was really quite shocked to be honest because Eurovision is such a big thing that you hear about on the TV and on the news, so it was amazing to be picked to work on an event of this size!
"It's been incredible. Being able to see how a big event is created and being able to be a part of the process is truly a dream come true."
Higher Education student Ben, aged 19, was equally surprised to have received such a rare opportunity: "It's [an opportunity] you hope you'll get, but there are no guarantees, so when I found out that I'd been selected it was a great feeling.
"I've learnt so much already and I've loved getting to know people, and meeting so many big professionals in the industry."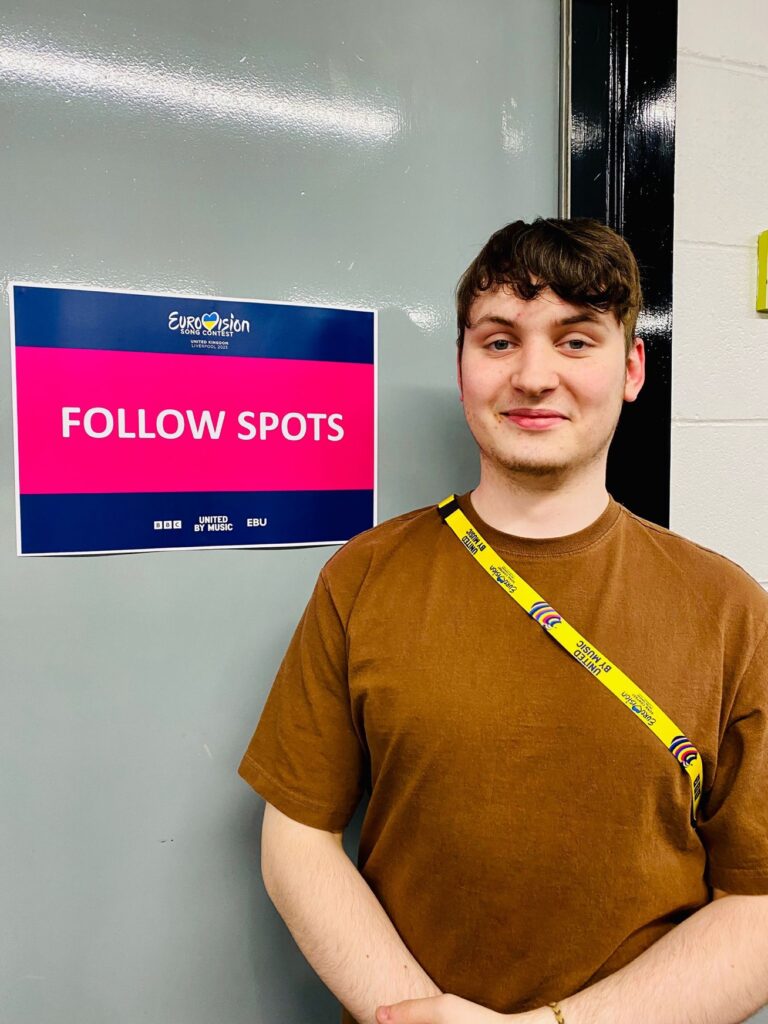 Training is underway for the main event on Saturday 13th May and the students have already met some very special guests along the way, most notably King Charles III and the Queen Consort, who attended the grand opening of the upcoming contest's lighting and stage.
Of the visit, Megan commented: "Being able to meet them was such a special and memorable experience I will never forget. They were so kind and caring, and it is truly a magical moment in my life."
Ben had an important role to play during His Majesty's visit: "I was follow-spotting the King and lighting him on the stage, which was incredible. I can't wait to see what the next few weeks have in store for me."
Head of Theatre Operations, Angie Berwick, commented: "It's very humbling and rewarding to see Ben and Megan's hard work and commitment pay off in such a big way. This is the experience of a lifetime and everyone at Cheshire College is proud beyond words of their success."
"Through the department's continuing partnership with ROBE NRG, there are many more exciting opportunities to come for current and prospective students studying Technical Theatre."
Cheshire College's Technical Theatre courses, ranging from Level 3 up to Level 5, provide students with the practical experience they need to become fully qualified and skilled employees. 
Cheshire College are now accepting applications for September 2023.
Visit www.ccsw.ac.uk to find out more.