Cheshire College – South & West hosted a spectacular awards evening at its Crewe Campus, welcoming staff, student nominees and their families to the impressive ceremony.
The Student Awards are an annual tradition at Cheshire College, providing an opportunity to celebrate the hard work, determination and successes of students across a broad range of qualification types and subject areas.
Guests were treated to canapés, live performances by the student band Rouge, and a video presentation about student life at Cheshire College. Stuart Pollitt, Co-Founder and Director of Restless Films, and a close collaborator of Cheshire College, acted as the Compère for the evening, presenting students with their environmentally friendly awards.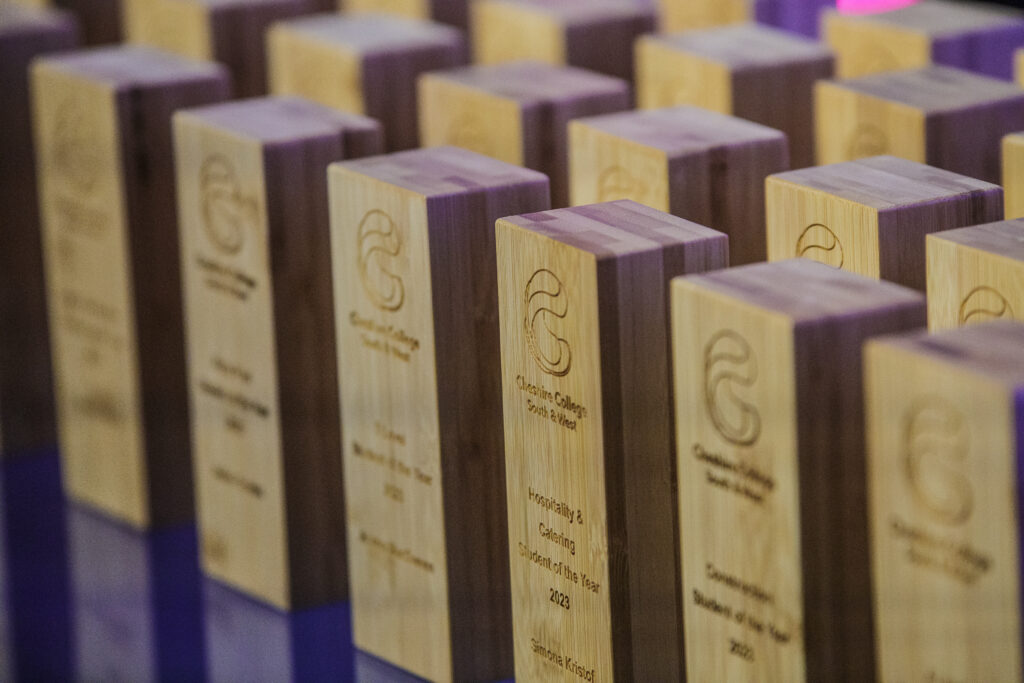 This year's event also recognised the Colleges' T Level Student of the Year as the first cohort are nearing completion of the brand new 2-year technical qualifications introduced in 2020.
Cheshire College was one of the first select few Further Education Colleges in Cheshire to have been selected by the Government to offer T Levels, an alternative to A Levels that combines classroom study with subject-specific work placements.
When asked how it felt to have been nominated for her award, T Level student Jess Cope, winner of the Childcare and Education Student of the Year Award said: "I feel really proud, and I'm so happy to be here tonight."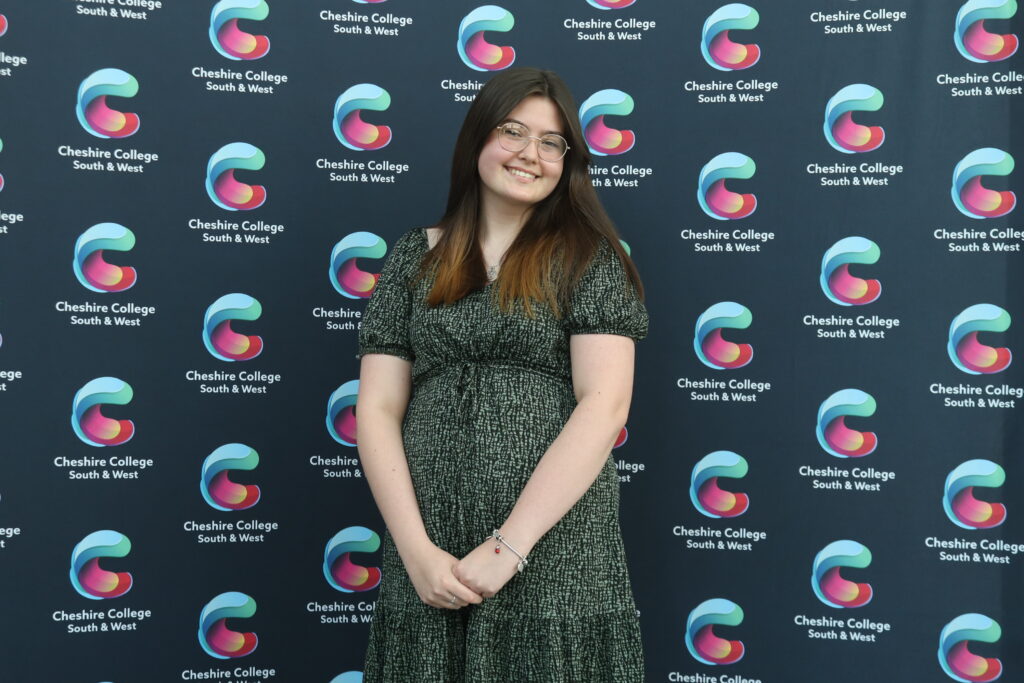 Many of the nominees have exciting plans for their futures, including Level 3 Business student Amir Narimanuly, winner of the Full-Time International Student of the Year Award, who said: "I've loved studying here in the UK and I'm hoping to go to the University of Cardiff to study International Relations after leaving Cheshire College."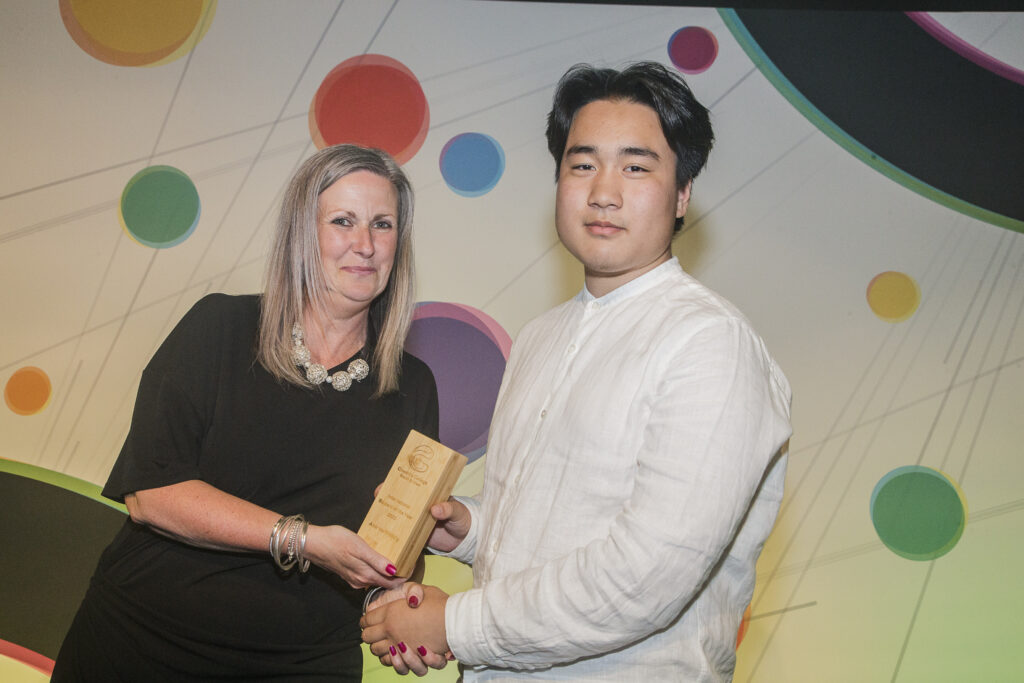 Jasbir Dhesi OBE, Principal and CEO of Cheshire College commented: "The standard of this year's Student Awards nominees has been exceptional, and we are absolutely thrilled for the students' success.
Every year, we are incredibly proud to celebrate the fantastic students who help to make Cheshire College so special."
The next Student Awards ceremony will be hosted at the College's Ellesmere Port Campus on Thursday 15th June.
Cheshire College are now accepting applications for September 2023 for those interested in studying a diverse range of subjects, designed to provide students with combined skills and knowledge that will fully prepare them for the next exciting stage of their life.
Visit www.ccsw.ac.uk to find out more.
Full List of Winners
Emily Miles (Humanities and Social Sciences A Level Student of the Year)
Egan Grover (Creative and Enterprise A Level Student of the Year)
Elizabeth Lea (English and Languages A Level Student of the Year)
Emily Taylor (STEM A Level Student of the Year)
Bethany Wallace (Futures Award)
Matthew Huang (Business and Computing Student of the Year)
Szymon Pawlowski (Health and Social Care Student of the Year)
Daniel Adams (Access to Higher Education Student of the Year)
Lewis Reeves (Construction Student of the Year)
Jess Cope (Childcare and Education Student of the Year)
Reuben Sammut (Arts and Media Student of the Year)
Thomas Marshall (Engineering Student of the Year)
Alex Kovac (Hair, Beauty and Barbering Student of the Year)
Simona Kristof (Hospitality and Catering Student of the Year)
Cai Armstrong (Motor Vehicle Student of the Year)
Millie Edwards (Science Student of the Year)
Alexis Bennett (Travel and Tourism Student of the Year)
Caitlin Astles (Public Services and Sport Student of the Year)
Tegan Jones (Performing and Production Arts Student of the Year)
Serhii Pedosenko (Outstanding Achievement Foundation Level Award)
Rebekah Harthern (Outstanding Achievement Intermediate Level Award)
Steeven Hie (Learning for Life and Work Student of the Year)
Michael Aylward (Outstanding Achievement Foundation Level Award)
Adam Crooks (Petty Pool Student of the Year)
Abdulrasoul Ishag (ESOL Student of the Year)
Arwen MacSween (T Level Student of the Year)
Joel Tonks (English Student of the Year)
Edden El-Hashahar (Rising Star Award)
Amir Narimanuly (Full-Time International Student of the Year)
Joshua Horuz (Maths Student of the Year)
Neve Pointon (Higher Education Student of the Year)
Nathan Leese (Sports Achiever of the Year)