The outstanding achievements of Cheshire College – South & West staff were recognised at their annual Staff Awards Ceremony in Crewe and Ellesmere Port.
The awards were presented during the College's Staff Wellbeing Day, an event that takes place at the end of the academic year together to provide staff members with an opportunity to reflect on and celebrate the year's achievements and focus on personal development and wellbeing before the Summer break.
The staff awards are a much-loved part of the day as it's a way to honour those who have been an exceptional example of the College values for their students, the wider community and their fellow staff members.
Held at Crewe and Ellesmere Port, the awards highlight teaching and non-teaching staff across all three Campuses.
Nominations are welcomed from all members of staff and the final winners are selected by Cheshire College's Executive Leadership Team.
From outstanding contribution awards to the awards for the unsung heroes of the team, the awards shone a light on those who have truly gone above and beyond.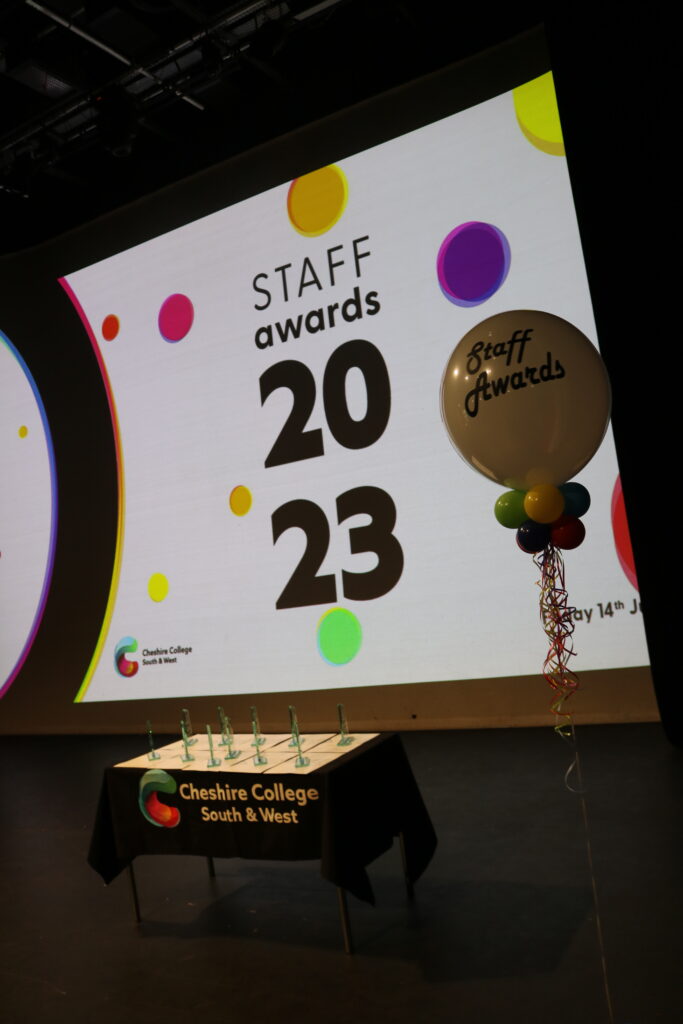 HR Director at Cheshire College – South & West, Lisa Woodman, says: "The annual staff awards are a fantastic way to shine a light on the incredible talent we have at the College. The volume and quality of nominations we receive each year is a true testament to the great community we've built across our Campuses.  
"It's incredibly rewarding to reflect and celebrate on the positive contributions our staff make to College life."
Take a look at the full list of award winners.
Award for the Excellent Commitment to Honesty and Integrity
Lisa Ford (Personal Development Tutor)
Carol Bennett (Personal Development Tutor)
Award for Outstanding Support for Others
Sarah Iggo (Inclusive Learning Advisor)
Sue Bona (Admissions Assistant)
Award for Exceptional Empowering of Others and Nurturing of Talent
Anne Pickering (Hairdressing Lecturer)
Iain McCluskey (Game Development Lecturer)
Award for Outstanding Contribution to Success
Natalie Short (Health and Social Care Lecturer)
Chris Holland (Brickwork Lecturer)
The 'Extra Mile' Award (for Outstanding Aspiration and Achievement)
John Holden (Hospitality and Catering Lecturer)
Lee Bevan (Network Engineer)
Award for Demonstrating Exceptional Accountability and Initiative
Szymon Skozen (Estates Supervisor)
Angel Ralchev (Hospitality and Catering Lecturer)
Most Exceptional Team Award
Work Based Learning
Outstanding Contribution to Community Award
Emma Sinclair (Behaviour Coordinator)
Simonetta Pearce (CEIAG Supervisor)
Unsung Hero Award
Mark Jones (Bursary and Transport Supervisor)
Sue Williams (Assistant Management Accountant)
Rising Star Award
Nikki Barnett (Learning Resource Centre Assistant)
Jennifer Spencer (Preparation for Life and Work Lecturer)
Long Service Awards
Martin Smith (25 years)
Jonathan White (25 years)
Christine Eardley (25 years)
John Fuller (25 years)
Carol Bennett (25 years)
Samantha Oldfield (25 years)
Cheshire College are proud to have a dedicated team focused on providing the best possible experience for their students, stakeholders and the wider community. If you're interested in being a part of the team, take a look at our current career opportunities.