As part of this year's International Women's Day celebrations, we are shining a light on just some of the wonderful women at Cheshire College as they share a bit more about their role and what they hope people take from International Women's Day this year.
Today, we're saying hello to Jacky Lowe, Assistant Director of Science, Business and IT…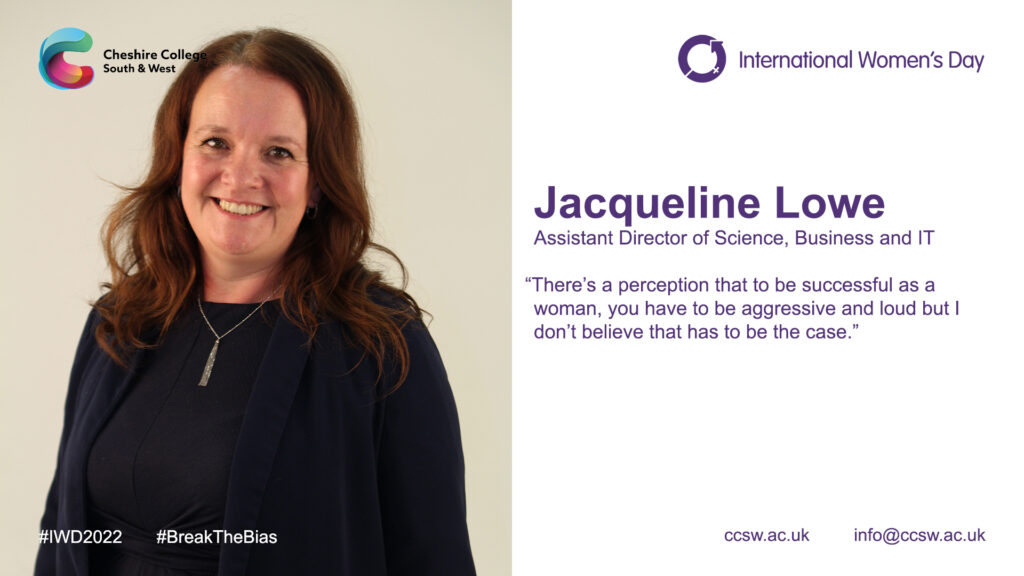 Hi Jacky, what should people take from International Women's Day?
International Women's Day is about celebrating the amazing women who are working hard to make the world a kinder, fairer and more inclusive place. We should all pay attention to the gender stereotypes and discrimination that still exist in 2022 and learn how we can do better.

Why is this important to talk about in education?
I manage three subjects (Business, Science and Computing) which are not only male dominated at study level, but also at career level. These industries also carry the largest disparity in regards to pay equality and women holding senior management positions.

I recently discovered that out of the FTSE 500 Chief Executive Officers, there are more men named 'John' than there are female CEOs.
All this to say that representation matters and it's important we show what's possible for everyone during their studies, rather than just the few.

Describe a typical day in your life at Cheshire College?
I'm not entirely sure that a typical day exists in my role! I am always taking on something new at least a few times a week.
One thing I always make sure is a constant is how I start my day; by greeting our learners at the door. This really allows myself and my colleagues the time to get to know our learners – not only those studying in my area but across the campuses.
From there, it can be anything from timetable planning, chasing attendance, safeguarding or whatever else the day brings to us!
For you, what does Cheshire College – South & West provide in terms of equality, inclusion and empowerment?
The College provides an inclusive and supportive environment, which removes barriers, encourages participation and respects diversity.
Name a woman who has inspired you, and why?
In my early 20s, I probably would have said someone like Anita Roddick (The Body Shop founder) or Karen Brady (Vice-Chairman of West Ham United F.C.) as they both flourished in what were stereotypically male environments.
As I've grown, I've realised that my mum is probably my biggest inspiration. I didn't fully appreciate at the time the sacrifices she made in order to enable my brother and I to achieve the successes we have – both in our personal and professional lives. She's the strongest person I know.

What's the best piece of advice you've been given?
I've thought of a few things that have really struck home with me over the years, and when I started writing them down, I realised that they can pretty much be summed up in three words:
'Be kind, always'.
There's a perception that to be successful as a woman, you have to be aggressive and loud but I don't believe that has to be the case.

What does 'breaking the bias' mean to you?
Being free of bias, stereotypes and discrimination. Celebrating diversity and encouraging inclusivity and equality.
What one piece of advice would you give to learners and your colleagues on International Women's Day? Be yourself and be confident in who you are, in all areas of your life. Don't be concerned about others' opinions of you and don't try to change to fit an ideal.

Interested in joining the Cheshire College team? Take a look at our amazing career opportunities at www.ccsw.ac.uk/work-for-us.