As part of this year's International Women's Day celebrations, we are shining a light on just some of the wonderful women at Cheshire College as they share a bit more about their role and what they hope people take from International Women's Day this year.
Today, we're saying hello to Claire Barton, Dean of Higher Education at Cheshire College.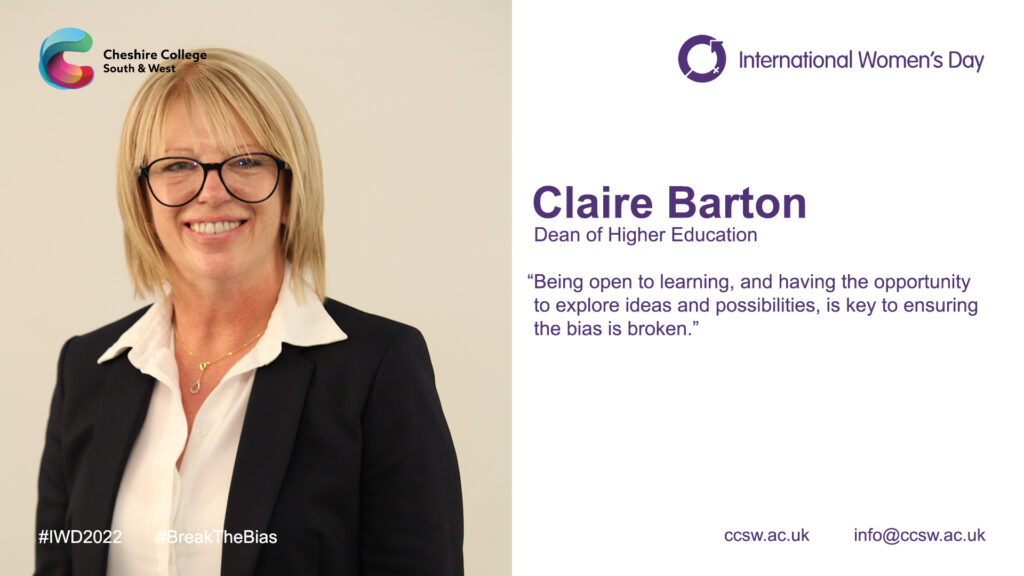 Hi Claire,what should people take from International Women's Day?
The key message from International Women's Day is that together we can forge women's equality. Collectively we can all break the bias, celebrate women's achievement, and raise awareness of bias; conscious or unconscious. The message is about the difference we make in so many ways.
Why is this important to talk about in education?
It is important that we are providing women with the skills and behaviours to develop the confidence and resilience they need to succeed in their chosen pathway. This looks very different for each of us, and the pathway may change as we grow and learn, but being open to learning, and having the opportunity to explore ideas and possibilities, in a supportive environment, is key to ensuring the bias is broken.
Describe a typical day in your life at Cheshire College?
There is no typical day! My planned day is also not always my actual day. My role is such that I must be reactive as well as proactive. I respond to the needs of the business, the staff and learners. For example, I may be in a strategic meeting with a University partner in the morning, then I'm updating my team on priorities and tasks, and then I'll be in a class of learners in the afternoon talking about their progression opportunities. it's never dull!
For you, what does Cheshire College – South & West provide in terms of equality, inclusion, and empowerment? 
These values at Cheshire College don't need to necessarily be discussed every day as they are embedded in everything we do and speak. The way we treat each other, the way we conduct business, they opportunities we provide; it's all equal.
The most important thing is that we respect each other and all those we meet.
Name a woman who has inspired you, any why?
If I had to pick a public figure, it would be Rosa Parks; a brave individual who refused to conform and fought bias when she refused to give up her seat to a white man on a Montgomery bus in 1955. Her actions have inspired millions over the years and The United States Congress honoured her as "the first lady of civil rights" and "the mother of the freedom movement". A brave individual who refused to conform and fought bias.
On a day-to-day basis, I am inspired most by my two daughters. They have grown into confident and inspiring young women who will argue their views but listen to, and consider, those of others. They possess a confidence and belief that they are equal, and work to positively impact on the lives of future generations of women and men.
What's the best piece of advice you've been given?
We can always find a solution if things go wrong!
I returned to education as a mature student and, as a trainee teacher, I felt so overwhelmed at times and just wanted to give up. However, I had an excellent line manager who was also my mentor. She believed in me and gave me the confidence and support to grow. 
What does 'breaking the bias' mean to you?
Ensuring all young women and men can fulfil their potential and providing all the support, advice, and guidance I can offer. We all have a responsibility to raise each other's aspirations and help reach our goals.
What one piece of advice would you give to learners and your colleagues on International Women's Day?
Never give up or be afraid to try.
Interested in joining the Cheshire College team? Take a look at our amazing career opportunities at www.ccsw.ac.uk/work-for-us.