Nurturing talent and empowering people to achieve their full potential is at the heart of Cheshire College's ethos and one young Art & Design learner has recently seen his creative work published for a third time.
Second Year, Level 3 Art & Design learner, Will Hawkes, teamed up with writer and editor Lorna McCann to illustrate the children's book, 'I Wish I Could Fly', which hit the shelves earlier this year.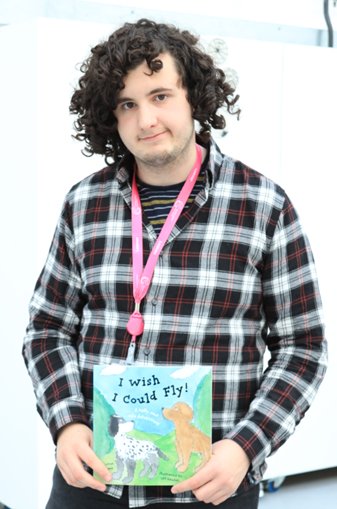 Using pen and water colours, Will spent his summer holidays reading the script and searching for hallmarks within Lorna's story for pointers to illustrate.
The book, which recently climbed to #3 on Amazon's Best Seller Chart for Children's Books About Dogs, follows Molly and her best friend Milo as they embark on a new adventure to see if their wish of being able to fly like a bird finally comes true.
Commenting on his College experience, Will said: "The College provides me with opportunities to explore my creative ideas and develop advanced skills in a broad range of artistic practices, as well as teaching me about how to have a successful career in the creative industries.
"I originally joined the College in 2018 and have studied a range of courses at the Chester Campus. Over the years my confidence has improved massively, which is why I love networking and actively looking for commissions to help build as many skills as possible.
"I am really happy that I have been able to illustrate my third book and the support I have had from tutors has been great!"
Paul Browne, Assistant Director – Visual and Performing Arts, said: "The level of ability and creativity of all our Art & Design learners studying with us is second-to-none. It's a real privilege to see their skills progress as they gain practical experience and explore the areas they'd like to specialise in and everyone at Cheshire College is extremely proud of Will and his achievements."
Starting the course with no prior experience in illustration, Will chose to study Art & Design as it was something he found interesting. Upon completion of his course, Will hopes to progress to university before starting his own freelance business.
Home to outstanding facilities and the latest technology, including a photography studio and darkroom, TV and radio suites, 3D workshop, alongside traditional studio spaces and facilities, Cheshire College provides the perfect blend of academic and employability skills with dedicated study programmes ranging from Level 1 up to Level 6.
Applications are now open for courses starting in September 2022. To find out more about studying Art & Design at Cheshire College, visit www.ccsw.ac.uk or register for the College's next Open Evening which will be taking place on Monday 24th January between 5:30pm – 7pm.  – Your Career Starts Here.