The accomplishments of Higher Education students from Cheshire College – South & West were celebrated today at the College's Graduation Ceremony.
Held at The Chester Cathedral, the ceremony welcomed graduates, their friends and family, along with the College's staff and stakeholders to celebrate this academic milestone.
The graduates in attendance all studied a Higher Education course at one of the College's three Campuses in Crewe, Ellesmere Port and Chester, achieving a range of qualifications from full Degrees, Foundation Degrees and PGCEs to Higher National Diplomas (HNDs) and Higher National Certificates (HNCs).
Previous Higher Education graduates from the College include people who have achieved success in a diverse range of industries including Engineering, Construction, Business, Education and Sport.
Taking place during the 10th anniversary of the Cathedral's Christmas tree festival, the location was the perfect location to celebrate the students' achievements on this festive season.
Overseeing the ceremony as Compère was multi award-winning documentary filmmaker and producer, Stuart Pollitt.
During the ceremony, students got to hear inspirational advice and personal experiences from the Principal and CEO of Cheshire College, Dhesi OBE, and Alison Edgar MBE who delivered the keynote speech.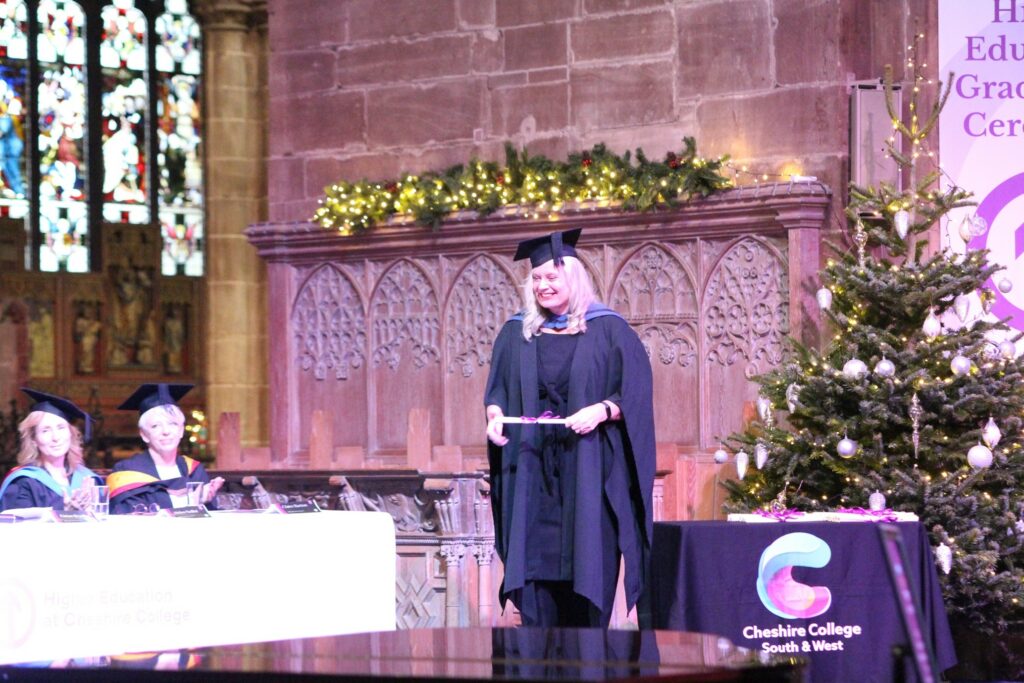 British Businesswoman and best-selling author, Alison Edgar MBE, has helped thousands of entrepreneurs harness their inner potential to understand the fundamentals of business success, and has recently become a business mentor on a new Amazon Prime UK and US TV show airing in 2023. Growing up in poverty near Glasgow and battling with undiagnosed dyslexia, Alison is passionate about social mobility and championing that no barrier should hold you back from achieving your goals be it age, race, gender, background, or disability.
Commenting on the graduation ceremony, Alison said: "It's lovely to see so many people from all walks of life graduate and move onto the next chapter in their lives. Be confident, concentrate on the things that make your heart sing, and always do your best and you won't go far wrong."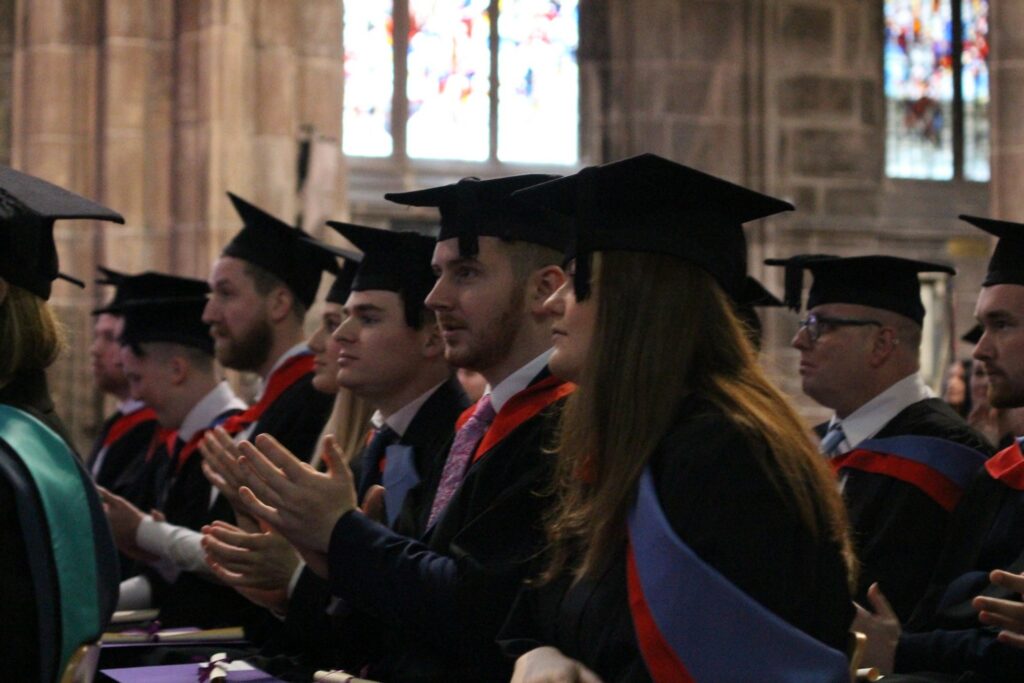 Ruth Szolkowska, Vice Principal of Innovation, Curriculum and Quality at Cheshire College, added: "Graduating is a huge milestone in any student's path to academic and professional excellence. It's been fantastic to all come together today and celebrate the achievements of our graduates.
"Completing a Higher Education course takes hard work, determination, and commitment. It's fair to say that the students' hard work paid off and I wish them all the best as they move onto successful careers."
Principal and CEO of Cheshire College, Dhesi OBE, commented: "Cheshire College has helped over 3,000 Higher Education students achieve their goals and progress onto further study or impressive career opportunities that make a difference to their chosen industry and the wider community.
"Their drive to continue to build on their skillset, learn something new and challenge themselves continues to inspire all of us at the College."
Higher Education at Cheshire College offers high-quality teaching from industry and academic professionals at a lower tuition fee with smaller class sizes to ensure students are able to get the most out of their studies and achieve the qualification they've always dreamed of.
With a range of courses available across subjects such as Business, Digital, Education, Construction and Engineering, Cheshire College's Higher Education offering provides students a diverse range of pathways to excel. To discover more, visit www.ccsw.ac.uk.