Cheshire College – South & West celebrated the academic and personal achievements of 17 exceptional students this evening at their annual Freemen and Guilds awards ceremony.
The ceremony was held at Cheshire College's Ellesmere Port Campus and highlights the historic bond between the Guilds and education, and as symbols of encouragement and esteem for young people working in industry and commerce in the Chester and Ellesmere Port area.
The awards were instituted in 1968 through the generosity of the Freemen and Guilds and have been awarded annually ever since.
They recognise the exceptional performance of students, many of whom have excelled or made a significant impact in courses related to the individual companies that make up the Freemen and Guilds of the City of Chester, including the Joiners and Carvers Company, Saddlers and Curriers, Cappers, Pinners, Wiredrawers and Linen Drapers and Barber Surgeons, Wax and Tallow Chandlers Company.
Speaking about the ceremony, President of the Freemen and Guilds of the City of Chester, John Dodd, shared: "The certificates and awards that are being presented to the students tonight acknowledge exceptional performance in gaining qualifications related to the Old Guild crafts, and are testimony to the hard work and achievement of both staff and students at Cheshire College."
One of the award-winning students of the evening was Jack Willson, from the College's Ellesmere Port Campus, who won the Ancient and Worshipful Company of Bricklayers award. Jack said: "It's nice to get your work recognised like this by your teachers. I'm happy to be here tonight."
Another successful student was Alisha Morgan Davies who received the Painters, Glaziers, Embroiderers and Stationers award. Alisha, who lives in Ellesmere Port and studies at the College's Chester Campus commented: "I've met some of the representatives this evening and they're lovely, so I'm really excited to be accepting this award."
Helen Nellist, Deputy Principal and Deputy CEO at Cheshire College – South & West, added: "This is always a very special evening for Cheshire College. These Awards are a long-standing tradition that recognises the historic link between our College and the Freemen and Guild.
"For centuries the medieval Guilds have been associated with the recruitment and training of Apprentices, and the Guilds system is regarded as the origin of technical education in this country so it's an honour to partner with them to celebrate the incredible achievements and promising careers of our students."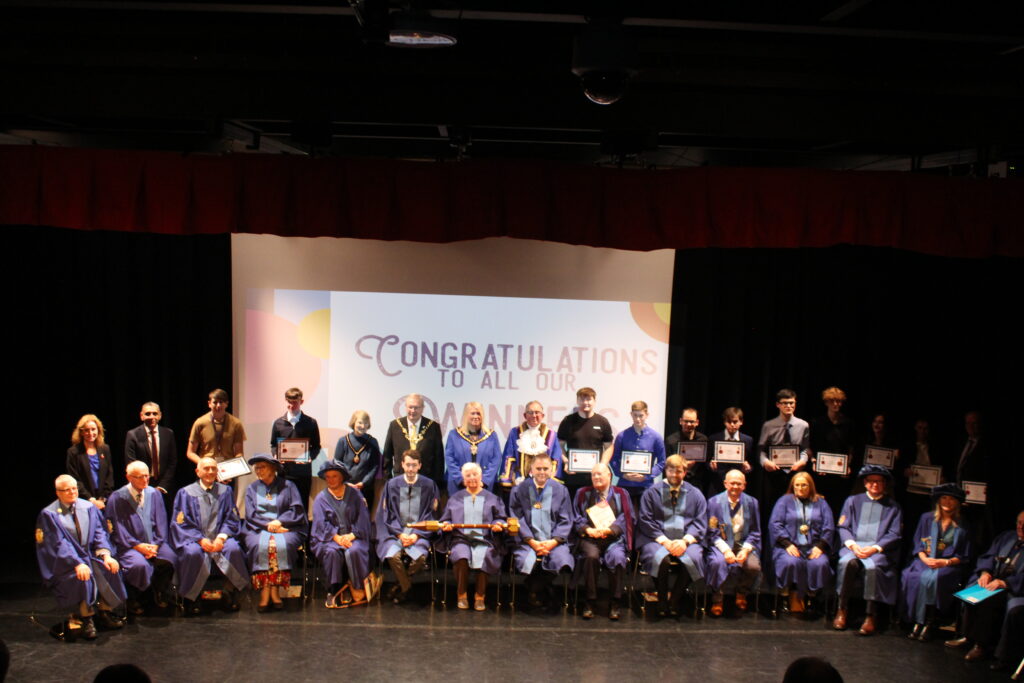 Full list of award winners
Kyle Day – 14-16 Award for Outstanding Achievement
Jack Willson – Ancient and Worshipful Company of Bricklayers Award
Kai Rogers – Bakers Award
Jacqui Jones – Barber Surgeons, Wax and Tallow Chandlers Co. Award
Finn Kinsella – Butchers Award
Andel Samuel – Cappers, Pinners, Wiredrawers and Linendrapers Award
Jedrzej Cieminski – Clothworkers, Walkers and Masons Company Award
Patrick Powell – Coopers Company Award
Sam Winward – Early Years Award
Nathan Price – Innholders, Cooks and Victuallers Company Award
Gerard Mooney – Joiners and Carvers Company Award
Claire Davies – Mercers, Ironmongers, Grocers and Apothecaries – Pharmacy Award
Evan Mosson – Mercers, Ironmongers, Grocers and Apothecaries Award
Alisha Morgan Davies – Painters, Glaziers, Embroiderers and Stationers Award
Jakub Stefanowicz – Saddlers and Curriers Award
Jordan Ratcliffe – Smiths, Cutlers and Plumbers Award
Holly Leonard – Weavers Award