Cheshire College – South & West's 2022 Christmas card has been designed by A Level student, Heidi Rowntree, whose creativity impressed staff and students across all three Campuses.
The College gave its Art and Design students the opportunity to submit designs for this year's Christmas card where the winning entry would be voted for and chosen by its staff and students.
With multiple designs to choose from, Heidi's design became the frontrunner as it was praised for its use of colour, familiar imagery and branding that are linked to the College and its Campuses, and displays of inclusivity throughout.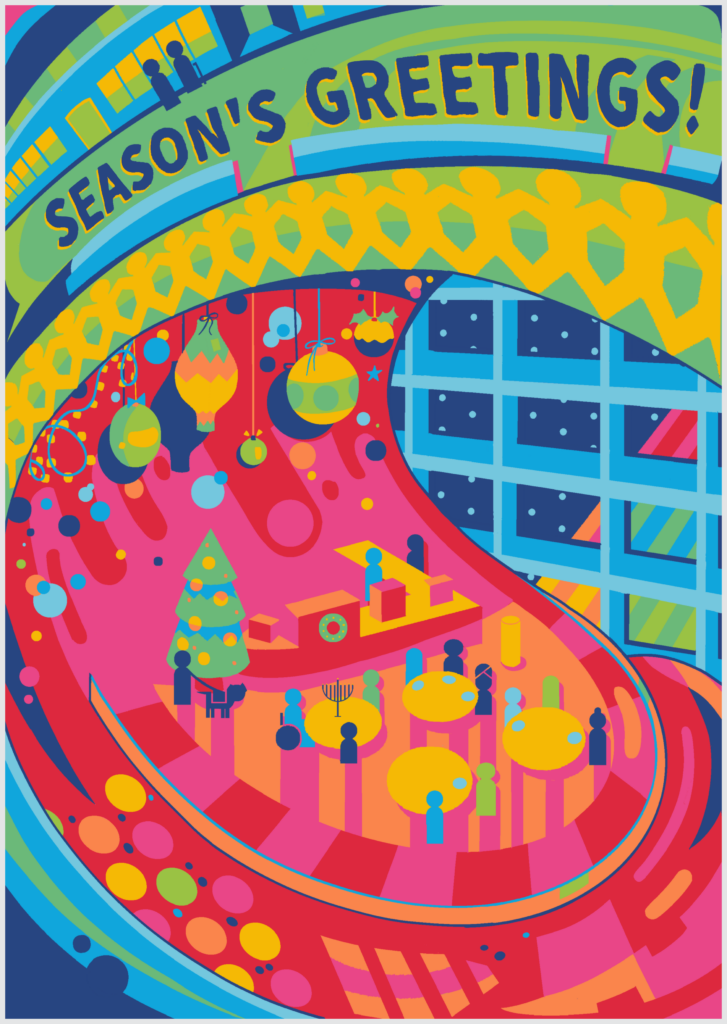 Upon hearing that her card design won, Heidi, who is studying A Level Art and Design – Graphic Communication at Cheshire College, said: "I'm very happy and I just feel good because it took lots of time and effort to do, so I'm glad people liked it."
When asked about the inspiration behind her design, Heidi said: "I started with the Cheshire College logo and I kind of built things on top of that, creating the different levels of the College and adding the people and references to the Christmas spirit. There are so many people at Cheshire College, and I feel like on Christmas and other religious holidays, it's important to come together and celebrate and be happy as one."
Heidi plans to study Graphic Design at university, with the intention of becoming a professional Graphic Designer. She has said that the College has helped her to "focus on individual aspects of Graphic Design and to specify what it is that I want to do in the future."
Assistant Director of Visual and Performing Arts, Phil Farrington, added: "It has been great to give students this opportunity to showcase their skills and creativity outside of their classroom and be celebrated amongst their peers, Cheshire College staff and stakeholders."
Cheshire College are now accepting applications for September 2023 for those interested in studying a diverse range of subjects, designed to provide students with combined skills and knowledge that will fully prepare them for the next exciting stage of their life.